October 1, 2020
Dear Mishpacha,
Since our last update, you may notice that we have reintroduced the Torah processional to our Saturday morning service. We appreciate you abiding by the rule to only touch the Torah with your Bible or tzit-tzit and refrain from using your hand. In actuality, this is standard practice – to not touch the Torah with your hand and we want to continue with this. We have also brought back our dancers. Did you notice that we returned the seating in the main part of the sanctuary to it's normal distance? As we have been celebrating the holidays, we have had nursery and our 4-7 year olds dismissed to classes for the service. All of this has been going very well!

In this last phase of our Return to Community Worship, we will be going back to our standard Shabbat School schedule, re-instituting in person Torah for Today groups, and returning to oneg after service. These three changes will begin October 17th, the first week of our new Torah cycle, a fitting correlation. As we begin reading through the Torah again, so we will begin with full congregational life again!
Nursery and Shabbat School will resume.

Nursery (newborn-4 years) is open for the entire service. Kids (4-12 years) get dismissed during the service.

As usual, please do not bring your child to service or nursery/shabbat school if they have had a fever within the last 24 hours, if you have had to use medication to lower a fever within the last 24 hours, or if your child has any symptoms of illness: cough, runny nose, sneezing, vomiting, diarrhea.

If workers or teachers see signs of illness, your child will be brought to you by the ushers or you will be asked to get them from the education wing. This policy is actually the same as we've always had in place, but we thought it necessary to reiterate it for everyone's benefit.


Congregational Prayer will continue to meet each Tuesday in the sanctuary.


Youth Group will meet at its pre-covid time of 1-2:30pm on Saturdays.

Torah for Today will resume in person groups with our mixed and Spanish groups. By popular demand, our online Torah for Today group will continue. Torah for Today will meet from 1-2:30pm Saturdays, both online and in person.

Our entire service will continue to be livestreamed each week on our Facebook page, YouTube Channel, and website at www.shalombrevard.com/livestream. We put this in place last year as we believe that having service accessible online is a benefit to congregants who are sick or traveling and can't meet in person, and also as an outreach for those who are curious to know what a service at Kol Mashiach is like.
Oneg tables will return to their normal place and oneg will resume weekly

at the close of Saturday morning service.

Bagels will be sorted by variety – one variety per tray

– to eliminate people needing to search through a mixed tray to find the bagel they want. This does mean that we will have fewer varieties for now. We are sorry if your favorite bagel didn't make the cut!


Butter and cream cheese will be in single serve containers.

This means we will not have different varieties of cream cheese, but it reduces a communal point of contact.

We will be offering half and half and only one flavored creamer to reduce contact points.
Cold drinks will be limited to water and apple juice to reduce contact points.
While we appreciate your generosity, we will not be accepting food items from congregants for oneg unless it is a designated pot luck week. This eliminates extra work for our kitchen staff.

If you would prefer to reduce your contact even further,

gloves are available from the kitchen staff upon request.

We recommend sanitizing your hands after serving yourself your bagel and drink.

We have made a few changes to minimize surface contacts, but because the CDC and scientists agree that covid is not spread by surface contact, we do not feel it's necessary or feasible to eliminate all "community" touch points (i.e. tongs, coffee pot pour spout, water jug handles). For this reason, we are positioning a hand sanitizer station right by the food/drink area because it's a good idea in general to sanitize your hands before eating!
We completely understand if you are not comfortable joining us for oneg or our expanded services. You are welcome to attend services with or without a mask. We want you to decide what is best for the health of you and your family. This is one of the many reasons why we have tried to offer online alternatives to connect with us for worship and study. We appreciate your patience while we return, with necessary accommodations, to these times of worship and fellowship that we have all missed! We look forward to beginning this new year with a renewed connection in Messiah!

Sincerely,
Rabbi Jude Caracelo
May 13, 2020
Dear Mishpacha (family),
With much prayer and planning, and in light of the governor's directives to return the state back to pre-virus operations, our leadership team has determined a strategy and date for implementation of Phase One of Kol Mashiach's return to Community Worship. We are sending this email to you as an initial source of information about what upcoming in-person services will look like for the foreseeable future.
While the building will be the same, not all the people will come back right away, the sanctuary seating will look different, and the way things will function will be different. Though change can be unsettling, as we have all experienced, it also brings opportunities for growth. We have been so encouraged by the way people made the switch to exclusively online services and bible studies to continue to grow together as a community.
Some changes have been made to comply with government guidelines suggesting continued social distancing and practical matters of sanitation and cleaning to limit potential exposure to the virus or any other germs. We understand that not everyone is ready to increase their potential for exposure and we support your decision to return at a time that you feel most comfortable As always, our service will be livestreamed for you to continue to join us in that capacity.
Serious consideration has been given to the fact that we will now have all ages of children with us for the duration of the service – hence our decision to term this "Community Worship." In light of that fact, you will notice when we return that there will be a slightly shortened service length and opportunities for the children to engage with the message through activity and coloring sheets. I will be speaking more directly to these changes in the coming days. As always, we thank you for your patience as we go through this transition time, we welcome your questions, and we pray for continued guidance from the Lord for the growth of Kol Mashiach and all of you that are a part of the KM Family.
Shalom,
Rabbi Jude Caracelo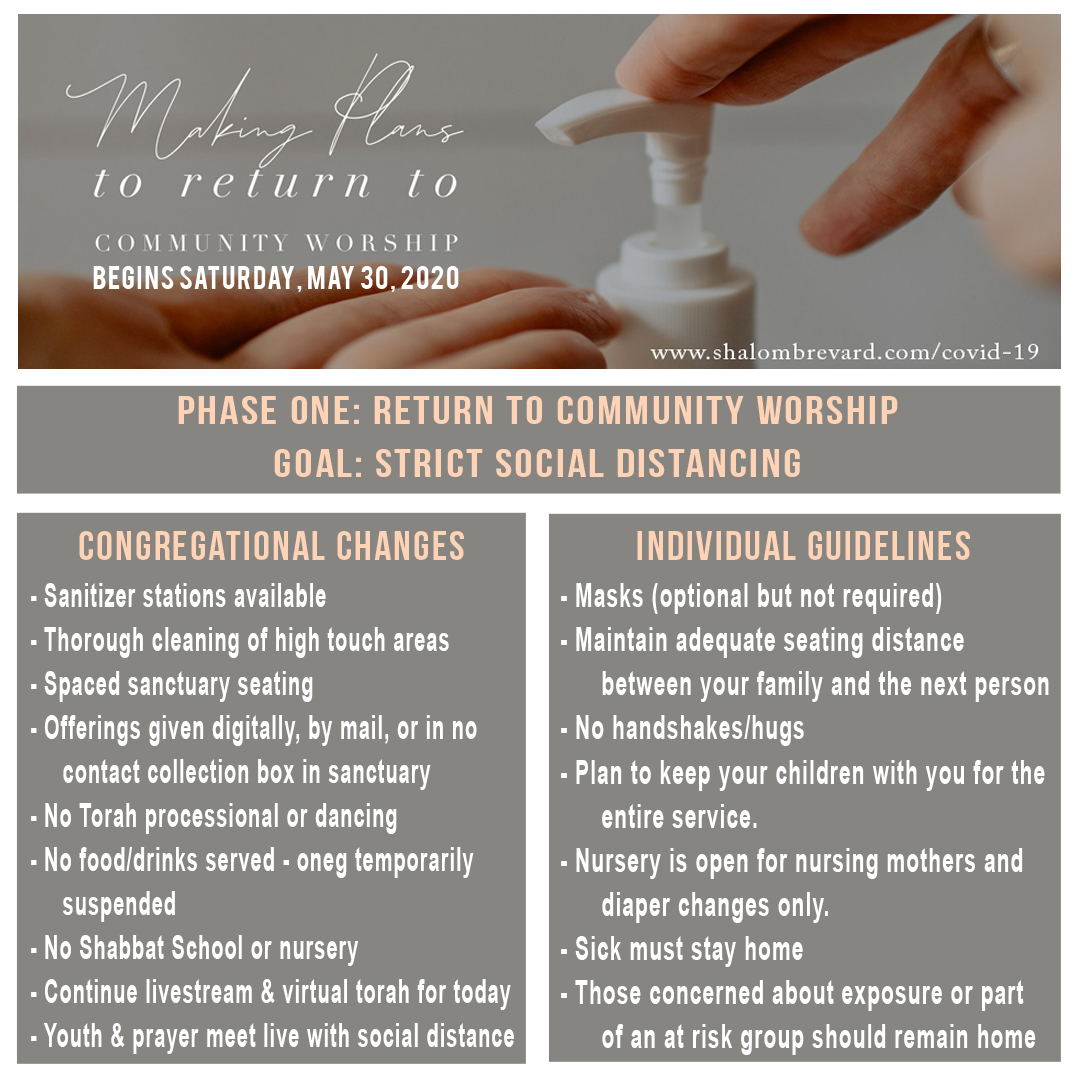 May 1, 2020
As the governor and local leaders are determining how to return to "public" life, while taking care not to risk those who are most vulnerable, we want you to know that our leadership team is monitoring how this will affect our synagogue. We are consulting guidelines and working together to strategize how to best implement social distancing requirements and practices to reduce risk as we return to community worship. We receive more information each day and as of the publication of this newsletter have not yet determined when we will reopen for in person services. We wanted you to know that we are making plans and preparing for that day when we can see each other in person again! As soon as we have a date and have implemented the necessary changes and procedures, we will let you all know the details. We will send out an email and post specifics on this page.
March 25, 2020
Did you know that the practice of "social distancing" is very Biblical? (Lev. 13:46) God separated those things that were "unclean" and had the potential for spreading disease – both man and objects – from the camp to limit contact. We are now living with the reality of that ancient practice and it can leave us feeling unsettled, isolated, and anxious. We want to remind you of the ways that you can connect with your Kol Mashiach family and share some new ways to connect!
Congregational Prayer will still be meeting each Tuesday. They will be practicing social distancing while gathering to pray at such an important time in our history.
Congregational Passover Cleaning has been canceled.

Online Meetings:
Torah for Today will resume beginning this Saturday at its usual time of 1:00-2:30pm using the Zoom.us video conferencing platform. You can access this with a computer or by downloading the Zoom app to your phone. Go to www.zoom.us or open the Zoom app and click "Join Meeting." Enter by using the Meeting ID: 321 255 2557. Please email info@shalombrevard.com to get the meeting password sent to you prior to the session. You can also click on this direct link: https://zoom.us/j/3212552557 Rabbi Jude will be moderating these online Torah for Today sessions.

Our entire service will continue to be livestreamed each week on our Facebook page, YouTube Channel, and website at www.shalombrevard.com/livestream. A synagogue is not a building, it is the people and watching online is proof of that!

Youth

Group is moving their meetings online. Parents, please make sure you read the email that was sent out.
Online Resources:
Now is a great time to dig deeper into the Word! This not only helps you grow, but it can be a time that you get ministered to as you deal with the constant changes we are experiencing day to day. We want to recommend a great Bible study website and app – www.bible.com and the Bible app for your phone or tablet (Icon is a brown bible with the words "Holy Bible" on the front.) They have more reading plans than you have the time to go through – even on a pandemic home stay! We are currently using this to follow and track our One Year Read Through the Bible plan. There are studies that last just a few days to a week, month, or year. There is also something for everyone. We haven't personally read through each study, so use discretion as you look for something to suit your needs. Go to https://bible.com/reading-plans/ to check out what's available.
For our Ladies: Rebbitzen Jennifer suggests the First 5 website and app. If you don't have a smart phone, you can go here to access the same content as the app. What is great about this Bible study resource is that the reading plans go through entire books of the Bible. Within "groups" you can comment and discuss the day's content. You can begin a study on your own or join Jennifer for a group study with KM Ladies on the books of Esther, Ruth, and Song of Songs beginning April 20th. Join the group using this link or if you're using the app, enter code: 84AD. Please note that you will need to create an account with First 5 in order to be able to join the KM Women's Group.

Our office will remain open during normal office hours. Please call (321) 255-2557 if you have any questions or need help with these online resources. We want this time to be one of renewal and a closer walk with God and our community. What the enemy means for destruction, God means for good! It is our job not to give in to fear, but to lean in to His presence and reach out to each other. We'll see you online!
Sincerely,
Rabbi Jude and Jennifer Caracelo
March 17, 2020
Dear Kol Mashiach Family and Friends,
All of you have undoubtedly been watching the news and keeping up with the global COVID-19 virus. These are challenging and unprecedented times. As concern grows around the world, we, as followers of Yeshua, have to remember the words of Isaiah 41:10, "fear not for I am with you; be not dismayed, for I am your God; I will strengthen you, I will help you, I will uphold you with my righteous right hand." During this time of uncertainty, we can be entirely certain that Adonai is with us and will never leave us or forsake us. I encourage all of you to spend time with the Lord, resting in His presence and peace.
We are suspending in person Shabbat services for the next eight weeks.

You can watch the live stream of our entire weekly Shabbat service on our Facebook page, Youtube channel, and website.
Shabbat services will resume as normal on May 16, pending any other changes and guidance.

We are canceling our Passover Seder scheduled for April 11th.

We will refund all money for those of you that have already registered. Please be patient with us as we work through all these details.

Passover begins April 8, and we encourage you to plan a Passover Seder in your home. In the coming week we will send out a separate email providing resources for celebrating Passover in smaller groups – with family or close friends.
You can still purchase Passover seder plates and other Passover items at our Judaica shop during office hours.
Financial support of tithes and offerings from our members and regular attendees is what makes everything possible at Kol Mashiach. Your contributions help us pay, among other things, for live streaming services and financially help those in our Kol Mashiach family that need extra support as they face unexpected work closings due to the virus.

Even though we will not be holding services in person, we ask that you please make every effort to continue regular giving during this time.
There are three ways to give: online on our secure giving page, by sending in a check to our mailing address, or by dropping of your tithe during office hours. Thank you for your faithfulness in giving during this time.

Other Kol Mashiach Events:
For our smaller groups, such as Congregational Prayer and Youth Group, please contact your ministry leader for more information as to whether gatherings are canceled or still being held.

Kol Mashiach is known for being a place where people care about each other. Now, more than ever, we need to continue this practice.

Reach out to each other via phone calls, text, and social media, especially keeping in mind those that live alone. While "social distancing" is great at helping to slow the spread of the virus, it can take an emotional toll on all of us.
If you have need of help with meals, going shopping, finding supplies, or anything else, contact the office or our Nachamu (Comfort) Ministry Coordinator, Kimberly.
Get together in small groups, preferably in an outdoor setting to take advantage of the fresh air, to continue to fellowship and encourage one another.
This break in "normal life" provides you with an opportunity to unplug from the hustle of the daily routine and connect with God, family, friends, and yourself in ways that you haven't before. Start a Bible reading plan with some friends, take the time to read a book, enjoy the sunshine, cook a meal for a friend, go for a walk, make something, take a nap!

Our office will remain open during normal office hours. Please call (321) 255-2557 if you have any questions or specific needs. We want each of you to know that we are praying for you and are here for you. Know that you are loved and cared for and we serve an amazing God and Savior!
Sincerely,
Rabbi Jude and Jennifer Caracelo