Ministry Staff
Our ministry staff is committed to advancing the message of Yeshua the Jewish Messiah and making disciples that can shine His light forth in the world. In the words of Rav Sha'ul (Paul), 'we are not ashamed of the Good News, for it is the power of God for salvation to everyone who trusts – to the Jew first and also to the gentile'.

Alan Levine, Senior Rabbi
Rabbi Alan Levine was born into a Jewish home in Sullivan County, N.Y. (in the Catskill Mountains, often called "The Jewish Alps"!). While in college, like so many of his friends, he was exposed to many "New Age" and Eastern religious practices, and Judaism became no more than an occasional cultural experience. It was not until years later that, after being exposed to the New Testament, he came to realize that it was a Jewish book about a Jewish Messiah. After accepting Yeshua as the Messiah, his life started changing over the next few years. He knew that God wanted him to reach out to Jewish people in the Brevard County area. Trained and accredited to practice Chiropractic, Rabbi Alan opened his Melbourne practice in 1979. As time went on, the calling to seek training as a Messianic rabbi led to his interim rabbinic s'micha (ordination) in 1990, and full ordination in 1992. He closed his Chiropractic office in 1994, to better serve the congregation.
Rabbi Alan and his wife Diana founded Kol Mashiach Messianic Synagogue in 1989. He is the Co-Chairman of the Southeast Regional Conference on Messianic Judaism, held each year in Orlando, FL. This conference is the largest regional Messianic conference of its kind. He is also a regular speaker at both the SE Regional Conference and the MJAA (Messianic Jewish Alliance of America) Messiah Conference, held each year in Harrisburg, PA.
Diana Levine, Senior Rebbetzin
Rebbetzin Diana Levine is, along with her husband Rabbi Alan Levine, co-founder of Kol Mashiach. Raised in a Catholic household as a child, she developed a love for the Jewish people, even before she accepted the Messiah of Israel.
She has been involved and active in many areas of Messianic Judaism for 32 years. Her passion for education has exhibited itself in creating, implementing and encouraging programs for children and teens. She has created both Women's Bible Studies and an active Sisterhood at the congregation. Under her direction, the Sisterhood has raised funds for Israel, the Israel Messianic Community, and Kol Mashiach's Building Fund.
Diana has had many opportunities to teach at Women's Retreats, the MJAA Southeast Regional Conference, and the National Messiah Conference. She was also the co-founder of the Daughter's of Righteousness Conference.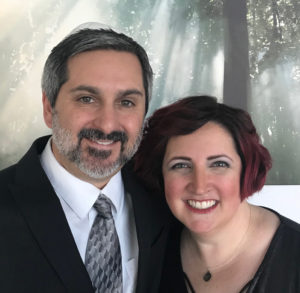 Jude and Jennifer Caracelo, Rabbi and Rebbitzen
Rabbi Jude Caracelo is originally from New York and grew up in Brevard County, FL. He came to know Yeshua as his messiah at the age of 16, and shortly thereafter his family started attending Kol Mashiach . In July of 2012, Jude was ordained and became the Assistant Rabbi under Rabbi Alan Levine until God opened the door to move to Savannah, GA where he and his wife planted Keren Ohr Messianic Synagogue in 2014. Rabbi Jude was the senior rabbi at Keren Ohr until 2019 when God called the family back to Florida and Kol Mashiach.
Jude is an Italian Jew – a descendant of conversos (Jews that were forceably converted to Catholicism). Conversos publicly became Catholics but still retained their Jewish traditions and heritage in secret for fear of persecution. Today, many Spanish and Italian people are rediscovering their lost Jewish ancestry. These events are a fulfillment of God's Word. Over and over again, God warned His people that they would be "scattered throughout the nations," yet He also promises to "regather them as a people."
Jude is married to Jennifer, also a Messianic Jew and the founder of Neshama, a ministry for Messianic women. She currently works as the social media and graphics coordinator for various synagogues. Together, they have seven children. The Caracelos have each worked in Messianic ministry for over 25 years in various capacities, serving as youth leaders, music leaders, and teachers.

Tony, Youth Leader
Having been raised in the Messianic movement, and after coming to faith in his early teens, Tony has a passion to see young people zealous for Messiah. In addition to youth ministry, Tony is one half of the Billboard recording duo Hazakim, as well as a speaker, Bible teacher, and Grammy Recording Academy member. Tony has dedicated more than 15 years of his life teaching and sharing the Word with a special emphasis on eschatology and Messianic Jewish apologetics. During his years of speaking Tony has taught classes at Moody Bible's Institute's annual Legacy Conference, YMJA retreats, and has shared at numerous congregations and Bible schools.